Orthodontics Tailored to Your Teen's Needs
Crooked or gapped teeth can make teenagers feel self-conscious about their smiles. However, traditional braces are uncomfortable, bulky, and obvious. Invisalign® Teen features innovative additions that help facilitate the needs and habits of teenage patients, such as extra replacement trays in case aligners go missing and eruption tabs that provide space for adult teeth to grow. At Kellyn Hodges Orthodontics in Philadelphia, PA, we can help your child effectively achieve a straighter smile without the worrisome effects of metal braces.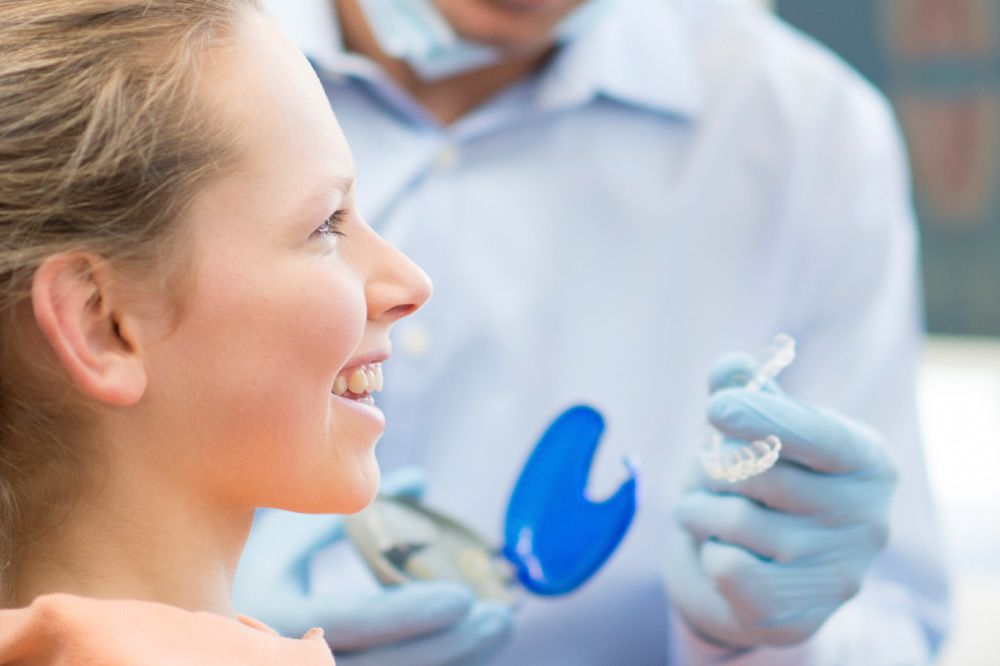 What Is Invisalign Teen?
Invisalign Teen is an orthodontic solution designed to help adolescents discreetly straighten their smile. While traditional braces use metal brackets and wires, this tooth straightening system uses clear, customizable aligners that are virtually invisible.
With Invisalign, your child can correct crooked teeth without the added insecurities of metal braces. If your child has misaligned teeth, but doesn't want the hassle of traditional braces, they may be a good candidate for this treatment.
Invisalign Teen vs. Traditional Invisalign
Both Invisalign and Invisalign Teen use clear, BPA-free plastic aligners. However, the latter is adapted to meet the needs of teenage patients. Some of the unique teen-focused innovations include:
Compliance indicator – At the beginning of treatment, your child is given a series of aligners. Each aligner should be worn consistently for two weeks before transitioning to the next one in the series. Keeping track of a timeline can be difficult for younger patients, which is why Invisalign Teen aligners come with a blue dot on each aligner. When the color fades, it provides an easy notification that its time to switch.
Eruption tabs – Some children need orthodontics before all their permanent teeth have emerged. In such cases, Invisalign Teen aligners can be made with special spaces (eruption tabs) so permanent teeth can naturally emerge without disrupting treatment.
Free replacement aligners – Losing an aligner can happen to patients of all ages, but there is a higher chance of this occurring with younger patients. If an aligner is lost or misplaced, you can order a specific number of replacement aligners free of charge throughout your child's treatment.
What to Expect during Treatment
At the initial consultation, one of our doctors will review your child's teeth and jaw, creating a treatment plan specific to their needs. They can also provide a personalized cost estimate at this time. Using digital technology, impressions will be taken to create a mold of your child's smile. These images are sent to the Invisalign lab so each aligner can be customized.
Invisalign Teen is an orthodontic solution designed to help adolescents discreetly straighten their smile.
When the aligners are completed, your child's doctor will check that they fit and provide clear instructions on how to wear and clean them. Each aligner should be worn at least 20 to 22 hours a day until the blue dot fades before switching to the next set.
Be sure and remove the aligners to eat or drink anything other than water. Aligners should be stored at room temperature in a plastic container and carefully cleaned with cool water and a gentle toothbrush.
The Benefits of Teen-Centric Care
Invisalign Teen provides a great alternative to traditional metal braces for teens desiring a straighter smile. Some of the many benefits include:
Discreet aesthetics – Aligners are virtually invisible and fit snugly over teeth. Patients can speak and smile with ease.
More comfortable treatment – Metal braces can rub against the inside of lips and cause uncomfortable sores. The plastic used to make Invisalign Teen aligners is smooth and gently guides teeth into position.
Removable aligners – Because aligners are removable, patients can enjoy all their favorite foods and drinks without worry of damage.
Convenient Care – Aligners are easy to remove and clean.
Achieve a Healthier Smile
If you are looking for an effective and affordable cost to improve your child's smile, we invite you to schedule a free consultation to learn more about Invisalign Teen. You can contact us online or call one of our three convenient locations in the Philadelphia area.