Bruxism Treatment Can Eliminate Jaw Pain and Protect Your Smile
Bruxism, or teeth grinding and jaw clenching, is a condition that can cause substantial jaw pain, debilitating headaches, and even tooth loss. A misalignment in your bite can make you more prone to teeth grinding. At Kellyn Hodges Orthodontics in Philadelphia, PA, our team provides bruxism treatment through orthodontics to help correct your dental misalignment and eliminate the causes of bruxism.
What Is Bruxism?
Bruxism is a medical term which refers to teeth grinding and jaw clenching. Nearly 40 million Americans, about eight to 10 percent of the population, suffer from this condition. While it may occur from stress, it can also be the result of crooked teeth or a misaligned jaw.
When the jaw is off balance, your teeth work harder to try and realign it. Patients are usually unaware they have this condition since it most frequently occurs during the night when sleeping. Those who have bruxism may catch themselves grinding their teeth during traffic or intense moments at work.
Over time, bruxism can take a toll on your oral health and lead to tooth loss and costly treatments. Catching this condition early and treating it conservatively can help eliminate the source of the problem and prevent side effects from worsening.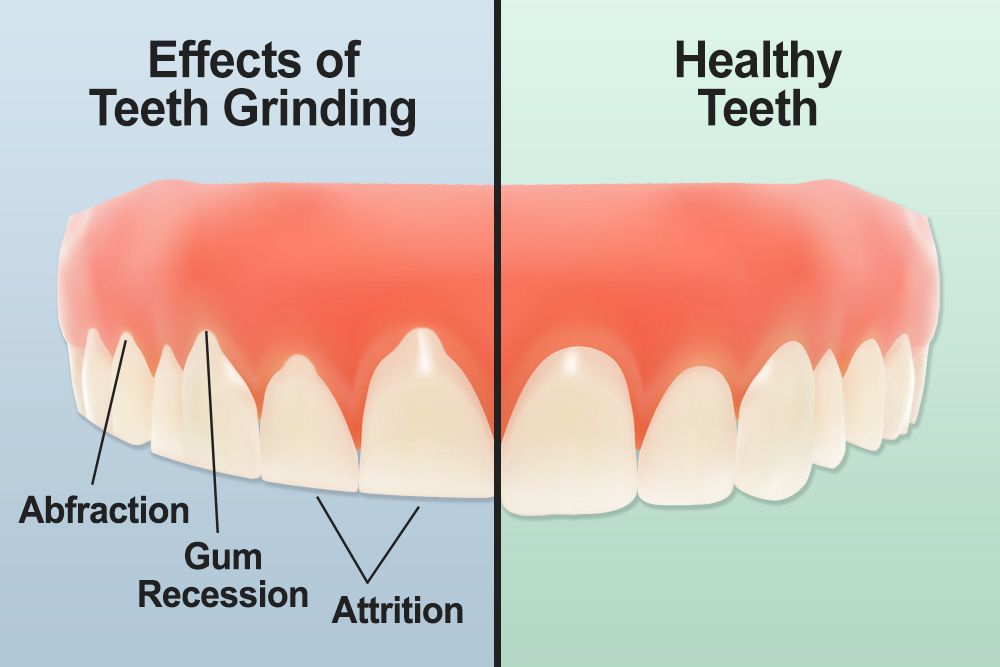 Symptoms and Side Effects
When bruxism is present, patients may frequently wake up with headaches and jaw soreness. Other more serious side effects can include:
Dental sensitivity
Cracked or chipped teeth
Broken fillings
Tooth erosion
Limited jaw motion
Difficulty chewing or biting down
Temporomandibular joint (TMJ) disorder
Facial swelling
Chronic jaw pain
Loose teeth
How to Treat Bruxism
Identifying the source of your bruxism is the key to determining which treatment is best suited for you. Your doctor will perform a thorough examination of your mouth and review your symptoms. We will also use x-rays to pinpoint any underlying issues.
Since bruxism has been linked to dental misalignment and jaw disorders, we believe that orthodontic intervention is often the best treatment. At Kellyn Hodges Orthodontics, we offer both Invisalign® and traditional metal braces to help realign teeth and correct bite disorders.
Catching this condition early and treating it conservatively can help eliminate the source of the problem and prevent side effects from worsening.
When dental misalignment is not the cause of bruxism, we can fit you with a customized mouth guard instead. This oral device fits comfortably over your teeth and should be worn when sleeping to counteract teeth grinding. For teeth that are already damaged, customized dental crowns can be placed to restore strength and eliminate sensitivity.
Other treatment recommendations may include making changes to your lifestyle, such as:
Not chewing gum
Limiting caffeine intake
Practicing meditation
Trying anti-anxiety medications
Dental Care You Can Afford
We are passionate about helping our patients receive the dental care they need at the right price. In addition to working with your insurance company, we also offer affordable pricing. We believe cost should never inhibit your need for care. In cases where your insurance doesn't provide full coverage, we have several financing options with low monthly payments to choose from to help offset costs.
Protect Your Smile
If you find yourself with jaw pain and frequent headaches followed by dental sensitivity, it may be time to speak with a specialist about the possibility of bruxism. Our doctors can help eliminate bruxism and correct your smile. Please contact our office online or call one of our three convenient locations in the Philadelphia area to book your free consultation.