Missing even one tooth not only creates a gap in your smile, but can also affect the way you chew, speak, and eat.
A high-quality dental bridge placed by Kellyn Hodges Orthodontics at one of our three Philadelphia, PA-area offices can restore your smile.
How can a dental bridge blend with your natural teeth to improve your oral function and revitalize your smile?
5 Important Benefits of Dental Bridges
Boost Your Self-Esteem
People with complete, healthy smiles tend to have more confidence in professional and social situations.
Improved Appearance
A dental bridge can make your smile look complete and healthy again.
Smile Stability
Dental bridges can keep natural teeth on either side of the empty gap from shifting out of place.
Restores Oral Function
Missing teeth can make biting and chewing painful and affect your ability to speak clearly. A bridge can correct these dental issues.
Improved Diet
Missing teeth can make chewing healthy, crunchy foods like apples, nuts, and raw veggies difficult if not downright painful.
Make Your Smile Whole Again
Contact Our Practice Today
Tired of hiding your mouth when you smile? Has eating the foods you love become painful or difficult due to missing teeth? Our award-winning dentists, Drs. Kellyn Hodges, Brianna Yang, Bryan Foley, and Samaneh Mojarrad, can use a customized dental bridge to give you a dazzling, complete smile.
If superior, compassionate dental care from skilled Philadelphia-area dentists is something you want for yourself or your family, contact Kellyn Hodges Orthodontics for a free consultation. From bridges to Invisalign® to teeth whitening, we offer some of the most advanced dentistry care available. Contact us today using our easy online form or by calling us anytime.
Excellent Dental Care Results
5-Star Patient Reviews
I love dr hodges so much, any concern I had about my teeth no matter how tedious it was she seen and knew exactly what I was talking about down to the smallest smallest detail it's crazy!!! My teeth look so beautiful I can't even believe it! so straight so even!!! & Her staff and team were awesome as well & her office is so clean and everyone is so polite I highly highly highly recommend!!!!!! Love you dr hodges xoxo!!!!!
View on Google
Top tier!!! I am so grateful to Kellyn Hodges Orthodontics. The staff was always extremely nice and they made my smile perfect! Dr Hodges' spirit is so warm! She has the kind of spirit that you know is the same inside the workplace as well as outside. I highly recommend anyone to go here. It was definitely worth the commute. Thank you and God bless all of you!
View on Google
A Closer Look at an Implant-Supported Bridge
For the right candidates, implants are considered by dentistry professionals to be the best way to replace missing teeth. An implant-supported bridge is the most comprehensive form of dental restoration because the implants act as artificial tooth roots.
Implant-Supported Bridge Placement
For patients who desire an implant-supported bridge, the first step will involve dental implant placement surgery performed by a Philadelphia-area oral surgeon.
The implant posts will need four to six months to fuse with your jawbone. Once they are ready, another procedure will be performed by the surgeon to attach a connector (called an abutment) to the implants.
After a short healing period, you'll come to our practice to have precise impressions taken of your smile. These will be sent to a trusted dental lab, where your lifelike bridge will be crafted. You'll return to our practice to have your beautifully customized bridge attached securely to your implants.
A Look at a Traditional Bridge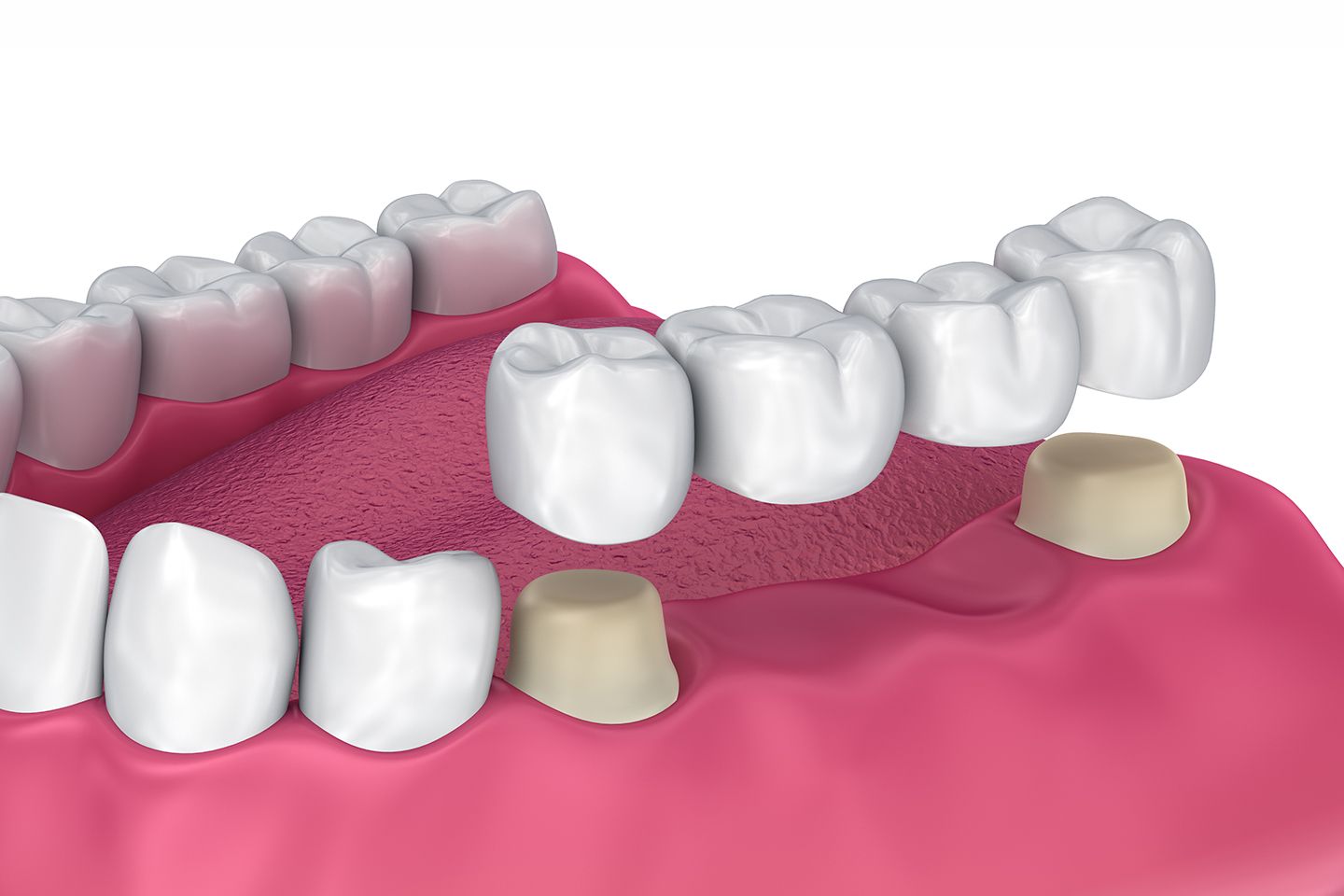 Traditional bridges are supported by
dental crowns
placed over neighboring teeth. Traditional dental bridges can be placed more quickly than implant-supported bridges but require alterations to healthy teeth.
Traditional Bridge Procedure
For patients looking for a quicker and more affordable tooth replacement solution, a traditional bridge is generally the best way to proceed. The procedure usually takes two office visits.
During the first appointment, your doctor will reshape the abutment teeth on either side of the gap so the bridge can be seamlessly attached. Next, impressions will be taken and sent to the dental lab so your bridge can be customized to match nearby teeth. Temporary dental crowns will be placed over your altered teeth before you leave to ensure optimal protection.
At your follow-up appointment, your dentist will remove the temporary crowns and cement your customized bridge to your abutment teeth. We will make sure that your new bridge fits properly and meets your expectations.
So Which Is Better:
Implant-Supported or Traditional?
It really depends on your candidacy for dental implants, your comfort with undergoing dental surgery, and your budget. Implant-supported dentures take longer and cost more, but they offer much better oral health benefits than traditional bridges. Conversely, traditional bridges can restore oral functions, cost less, and can get you smiling faster, without surgery.
A free consultation with one of our knowledgeable dentists can help you make an educated decision. Start the process by requesting a free dental bridges consultation at our Bala Cynwyd, Bensalem, or Montgomeryville, PA, office.
Concerned About Costs?
Financing Can Make
Dental Bridges Affordable
Don't let cost worries stop you from receiving the dental care you need. We offer low-interest financing options to make out-of-pocket dentistry fees easier to manage. We also accept most insurance and will work to find the best solution to meet your budget and health needs. At your free consultation, we will discuss your options and answer any questions you may have.
Ready to Join Our Family of
Smiling, Satisfied Patients?
"Dr. Hodges and staff were very professional and made me feel like part of a family during my visits from 2018-2021. I highly recommend Kellyn Hodges Orthodontics for all your orthodontal care. Thank you to the team of Kellyn Hodges Orthodontics for all you do."

Timmothy Drummond, 5-Star Reviews