A crooked smile can have an impact on more than just your appearance. Misaligned teeth can also affect your overall health.
Braces are a trusted solution to straighten your teeth and improve your bite, giving you the smile of your dreams.
Learn more about why Kellyn Hodges Orthodontics in Philadelphia, PA, is the preferred provider for so many patients...
Many people are interested in orthodontic treatment because they desire straighter teeth. While braces can certainly enhance the aesthetics of your smile, they also improve your bite and protect your overall health. At Kellyn Hodges Orthodontics, serving Bala Cynwyd, Bensalem, and nearby areas, our orthodontists provide braces so that you can make your smile more attractive and easier to maintain, reducing your risk of decay and gum disease.
Patients of all ages can benefit from conventional braces. In some instances, we may even recommend early orthodontics for children. Our orthodontists believe that by addressing issues while your child is still in the developmental stages, we can help them avoid more complex problems in the future.
The friendly staff at our Philadelphia, PA, area practice can help you achieve the beautiful smile you deserve. Request a consultation online or call us at (610) 617-0700 to schedule an appointment with an orthodontist today!
Take a Look
at How Braces Work
Crooked Teeth
Can Affect Your Social Life
THE BEST EXPERIENCE EVER!! It's been a long four year journey and yesterday I finally had my braces removed! Linda was a huge help throughout the entire process! She helped me feel relaxed, very caring and SUPER efficient with her work. Customer service 10/10!
View On Google
Dr. Kellyn Hodges Orthodontics is the best orthodontist I could ever imagine. All of the staff are incredibly helpful and friendly! Dr. Kellyn Hodges went the extra mile to perform a enameloplasty, which was painless and took 5 minutes, to really make my smile shine!
View On Google
A Simple & Trusted Solution
Contact Kellyn Hodges Orthodontics
Your oral health is important not just to the state of your smile, but to your overall well-being. We can help you develop a plan that works towards your dental goals while staying within your budget. From affordable braces to the Invisalign® clear aligner system, our orthodontists can help you determine the right treatment plan so the smile of your dreams can become your reality.
If you are ready to learn more about how to achieve the beautiful smile you dream about, call our Philadelphia area orthodontist offices at (610) 617-0700 to book an appointment or contact us online today. We serve patients in Bala Cynwyd, Bensalem, and nearby areas.
Fabulous, wonderful, amazing...
"Fabulous, wonderful, amazing, are just some of the words I use to describe my time and experiences here with Dr. Hodges and her staff. I highly recommend that you come here for your treatment. To them your not just a number your are you. Like they always say, your smile is your best accessory."

Sandra Sharp
Straight Teeth
Are Healthy Teeth
Braces are used in orthodontic dentistry to align and straighten crooked or crowded teeth, as well as correct a variety of bite problems and malocclusions. Orthodontics also improve your overall dental health. At Kellyn Hodges Orthodontics in Philadelphia, we offer several solutions to meet your dental needs. However, braces remain one of the most popular and economical options for patients throughout the Philadelphia area.
Orthodontic treatment can deliver a healthier, more attractive smile, giving you the confidence to take on the world.
Traditional braces are composed of metal brackets strung with a wire designed to slowly mold your teeth into proper alignment. Metal braces are generally the most affordable type of orthodontics. Braces are also required for patients who are in need of extensive realignment. During a personal consultation with one of our orthodontists, our team will tailor a proper course of orthodontic treatment based on your unique needs and goals. At our Philadelphia area orthodontist offices, we can determine if you qualify for Invisalign, or if braces are right for you. If you are looking for the perfect smile, we can also incorporate your orthodontics into a complete smile makeover.
Braces are made up of several components...
Some of these components are used to make room for movement...
Placing & Maintaining
Your Braces
Preparation
After your orthodontist takes molds of your teeth, and dental braces are deemed the proper course of treatment, the procedure can begin at one of our Philadelphia area offices. The procedure starts with the application of an adhesive to the teeth that will receive brackets so that the bonding material is able to adhere properly. The teeth are then banded, and brackets are bonded to the individual teeth. This process usually takes just a few seconds per tooth.
Attaching Brackets and Archwires
Spacers are sometimes used to make space for future molar banding if we determine this step should be included as part of your treatment plan. Once the brackets are placed, and spacers if necessary, the wire (called an archwire) will be threaded between the brackets and secured in place using ligature elastics. Depending on the case, there are a variety of configurations for braces to help remedy a range of orthodontic issues at our Philadelphia area offices. The brackets, elastics, and archwires are available in a variety of colors and materials, so there are still choices, even with traditional metal braces.
Adjustments
During follow-up appointments at one of our Philadelphia area offices, the braces will be adjusted and tightened, slowly correcting the teeth by stretching the periodontal membrane. Adjustments must be made about once a month. Depending on the case, braces treatment generally takes about two and a half years to achieve complete and lasting results.
After-Care
Following treatment with dental braces, you must wear a retainer in order to avoid your teeth from reverting back to their original misaligned position. While metal braces are used primarily by younger patients, they are an effective and affordable way for adults to achieve a beautiful smile.
Many adults in the Philadelphia, PA, area who qualify opt for a more cosmetically appealing orthodontic treatment such as clear braces or Invisalign. Many of our patients choose to undergo teeth whitening to further highlight their newly straightened teeth.
Looking forward to going back.
"Felt very welcomed from the time I made my appointment with Tiara on the phone. All the staff was very friendly from the time I walked in the door. Looking forward to going back, not only for my daughter, but for myself as well. Would recommend for anyone(child/adult)."

Tammy Coleman
Reducing Discomfort
During Treatment
Any time your teeth are moved, some tenderness can be expected. You may begin to experience slight soreness a few hours after the braces are placed. You may also notice irritation on the inside of the cheeks or sore spots on the tongue. These side effects are typical and should fade in a few days. Most patients in the Philadelphia, PA, area become fully accustomed to their new braces in about one month.
As your teeth begin shifting, the tension decreases. That is why periodic adjustments are necessary during treatment. Every few weeks, your doctor will monitor your progress and tighten your braces at one of our Philadelphia area offices to increase the tension. Due to the new position of your teeth following these adjustments, most patients feel some soreness.
Typically, the discomfort on subsequent visits is not as pronounced as when the braces are first placed. The friendly staff at our Philadelphia area practices are well known for a gentle touch. At Kellyn Hodges Orthodontics, we make every effort to relieve discomfort during your treatment.
Tips for Managing Orthodontic Discomfort
By following a few guidelines, you can effectively reduce the soreness caused by braces. This allows you to enjoy a more comfortable treatment.
Take over-the-counter pain relievers such as ibuprofen, naproxen, or acetaminophen as needed
Use orthodontic wax to reduce soft tissue irritation caused by metal wires, brackets, and elastic bands
Apply a cold compress to the external jaw as needed to reduce inflammation and soreness
Eat softer, cool foods to help soothe any discomfort, such as smoothies, frozen yogurt, and ice cream
Avoid hard, crunchy, and sticky foods, including popcorn, nuts, taffy, caramel, and hard candy
Interested in More Discreet Treatment?
Consider Invisalign
Teen and adult patients in the Philadelphia area may also wish to consider Invisalign, a discreet alternative to conventional braces. The Invisalign system straightens crooked teeth using a series of removable, clear plastic trays rather than metal brackets. Kellyn Hodges Orthodontics, serving patients throughout the Philadelphia area, offers this state-of-the-art treatment to patients who qualify.
Unfortunately, not every candidate seeking orthodontic treatment will qualify for Invisalign. If you have severe or complex alignment issues, you may be better suited for traditional orthodontics. You also must wear the Invisalign aligner for at least 20 hours a day. This means Invisalign is better suited for adults and teens who are responsible enough to wear the custom-made trays for up to 22 hours a day.
During a consultation at one of our Philadelphia area practices, our orthodontists can determine if Invisalign is an effective option for you to consider.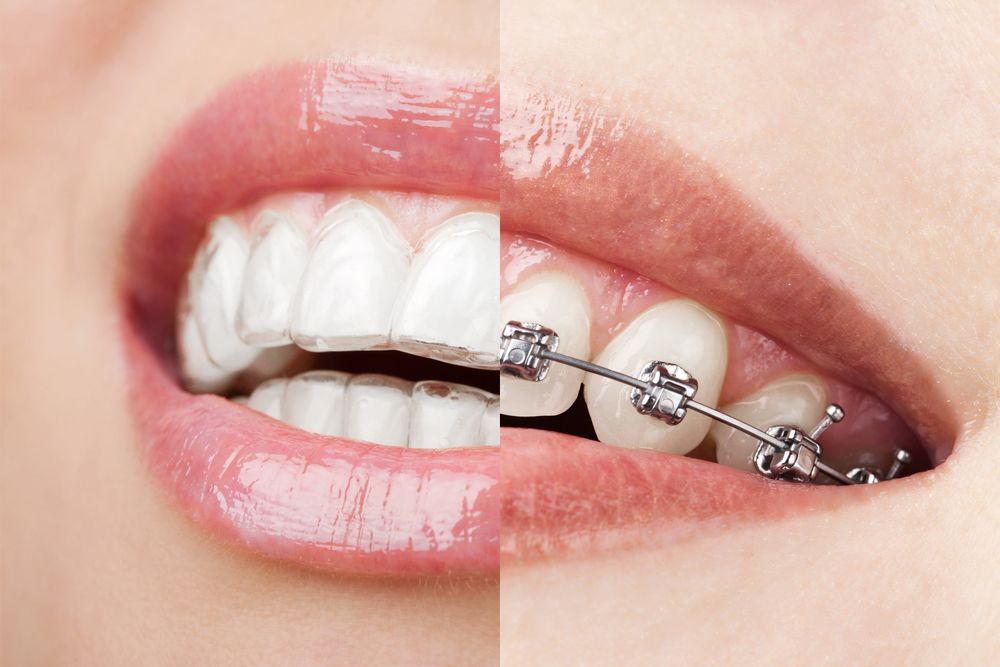 Our practice serving Bala Cynwyd, Bensalem, and surrounding communities invites you to explore answers to some of the most common questions about braces:
How do I maintain proper oral hygiene while wearing braces?
To help keep your teeth and gums healthy and your braces clean, you will need to brush and floss when you wake up in the morning, after every meal, and before you go to sleep at night. You should brush at an angle at the top of the bands and brackets to reach any trapped food or bacteria. A water flosser (sometimes marketed under the name Waterpik®) can help achieve a thorough cleaning when you care for your teeth.
What is the best age to get braces?
Braces may be recommended for children as young as eight, depending on their needs. However, the best time to get braces depends entirely on your needs.
Am I too old for braces?
Absolutely not. Whether you needed braces as a child but didn't undergo treatment, developed misalignment after having worn braces, are just now developing alignment issues, or want to straighten your teeth for cosmetic reasons, braces help you.
What foods should I avoid with braces?
You will need to watch what you eat in order to avoid breaking or loosening your braces. Common foods that should be avoided when wearing braces include:
Caramels
Chewing gum
Corn on the cob
Hard candy
Peanut brittle
Popcorn
Taffy
Whole hard apples
Whole raw carrots