Wisdom Tooth Extraction by a Skilled Orthodontist
Wisdom teeth (third molars) are the last teeth to erupt, typically between the ages of 17 and 25. Although they can sometimes erupt without causing any issues, wisdom teeth can become impacted or erupt at improper angles, causing damage to surrounding teeth and other tissues. Our dentists perform wisdom tooth extraction at our three offices serving the greater Philadelphia, PA, area. This procedure can be performed when issues become apparent, or during the early stages of wisdom tooth development as a preventive measure. Dr. Kellyn Hodges and her team use a combination of experience, state-of-the-art technology, and the latest techniques to safely remove wisdom teeth with minimal discomfort.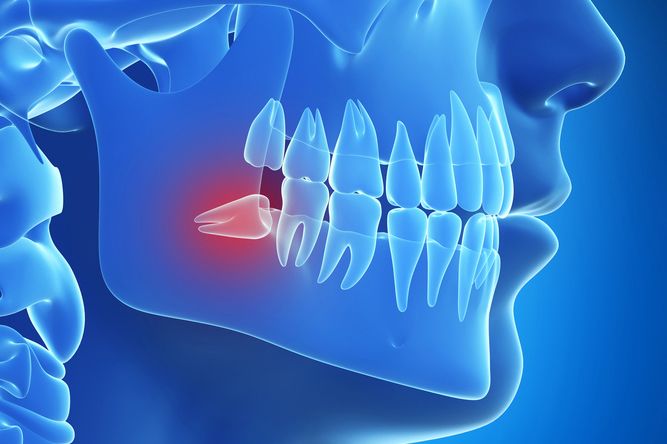 Benefits of Wisdom Tooth Removal
Removing wisdom teeth in their very earliest stages of development can benefit every aspect of your smile. Even when wisdom teeth erupt properly, they can be difficult to clean and floss, making them especially prone to decay. Often, tissue flaps develop as the wisdom teeth erupt. This creates the perfect place for bacteria to accumulate, increasing your risk of tooth decay and periodontal disease.
When wisdom teeth become impacted or erupt at an angle, it can result in pronounced discomfort, damage to surrounding teeth, overall misalignment, cysts, and periodontal disease. Because wisdom teeth are not essential to proper oral function, extraction is almost always recommended when these issues occur.
If our doctors recommend extraction, you can depend on them to make your experience as comfortable as possible.
What to Expect during Removal
Before recommending the procedure, your dentist will provide a consultation to properly assess your oral health. During this consultation, we will take 3D scans and x-rays to assess the wisdom teeth and any issues they are causing.
Prior to your procedure, we will apply a local anesthetic to ensure that the area around your tooth is completely numb. Depending on the position of the tooth, your dentist may need to make an incision in the gum tissue. In other cases, your dentist may need to remove bone tissue in order to extract the tooth. The tooth may also need to be separated into smaller pieces for easier removal.
Once the tooth has been extracted, sutures will be applied to close any incisions.
Recovery
For the next several days, patients can expect to experience swelling and discomfort, which should subside within a week. Patients may be advised to take special measures to avoid developing dry sockets, a condition that occurs when a blood clot at the extraction site dissolves or becomes dislodged before the underlying tissue heals. You should avoid using a straw or smoking during your recovery, eat only soft foods, and take care to avoid touching the extraction site when brushing or flossing.
Schedule a Consultation
If you or your child are experiencing symptoms of wisdom tooth complications, or if you would like to explore the option of preventive extraction, we can help you. If our doctors recommend extraction, you can depend on them to make your experience as comfortable as possible. Contact us to schedule a consultation, or give us a call at (215) 245-5100.