Fill Gaps in Your Smile with a Dental Bridge
Traditional dental bridges can replace missing teeth, returning form and function to your smile. Our team at Kellyn Hodges Orthodontics in Philadelphia, PA, also offers implant-supported bridges, which provide increased stability, durability, and oral health benefits compared to traditional bridges. If you are missing one to three consecutive teeth, a dental bridge can be customized to fill in the gap and restore function.
Dental Bridges Explained
A traditional dental bridge consists of one to three pontics (fake teeth) flanked by a dental crown on either side. The number of pontics you need will depend on how many teeth you are missing. The crowns are placed on the teeth on either side of the gap in your smile to support the bridge.
For a longer-lasting and more secure tooth replacement solution, we also offer implant-supported bridges. Instead of attaching to remaining teeth, this type of restoration is secured to dental implants embedded into the jawbone. Once in place, implants function as artificial tooth roots, providing better durability and more aesthetically pleasing results.
Explore Your Candidacy
A dental bridge is usually recommended if you are missing one to three teeth in a row. Candidates for a traditional bridge should have strong and sturdy remaining teeth able to support the device and be committed to maintaining good oral hygiene.
At your free consultation, we will discuss the options available and answer any questions you may have.
There are additional requirements for patients who desire an implant-supported bridge. Solid jawbone density and healthy gums are necessary for successful implant treatment. At your appointment, one of our doctors will examine your teeth and gums using x-rays and make recommendations based on the extent of tooth loss and your oral health.
Implant-Supported Bridges
For patients who desire an implant-supported bridge, the first step will involve dental implant placement and a four to six-month recovery. Once the implant posts have successfully fused with the jawbone, another procedure is performed to attach the abutments. When you have fully recovered, impressions are taken and the bridge is designed and attached.
The benefits of implant-supported bridges include:
Long-lasting results
Stronger restoration
Optimal comfort and aesthetics
Better dental function
Improved jawbone health
Jawbone regeneration
Our team can coordinate the placement of your dental implants with a skilled oral surgeon. We can then create a lifelike bridge to fully restore your smile.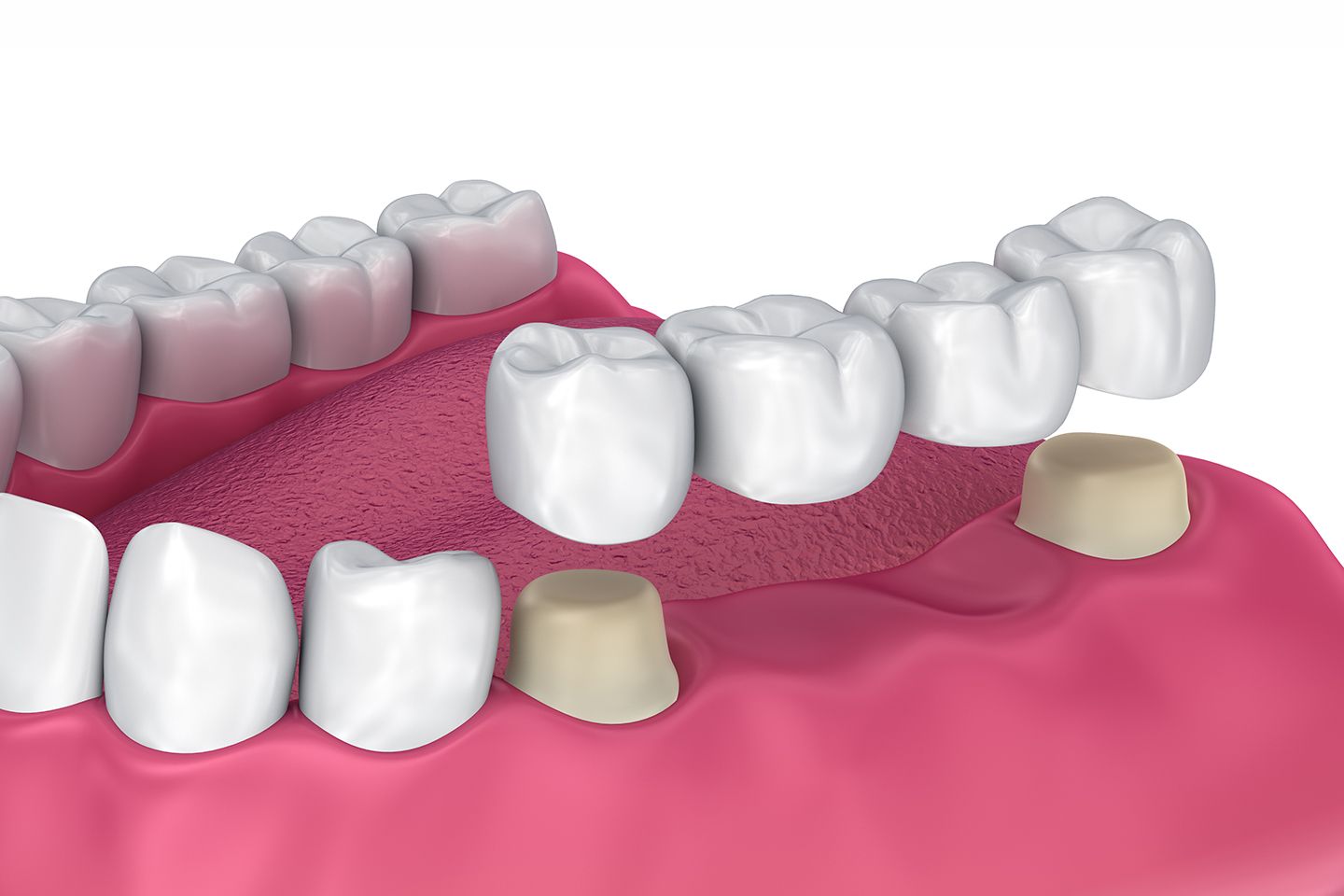 Traditional Bridges
For patients looking for a quick and affordable tooth replacement solution, a traditional bridge is generally the best way to proceed. The overall procedure takes about two office visits. During the first appointment, your doctor will reshape the abutment teeth on either side of the gap so the bridge can be seamlessly attached.
Next, impressions are taken and sent to a dental lab so the bridge can be customized to match nearby teeth. Before leaving the office, temporary dental crowns will be placed over your altered teeth to ensure optimal protection.
At your follow-up appointment, the temporary crowns are removed and the bridge is cemented to your abutment teeth. Your doctor will check that the bridge fits properly and meets your expectations.
The benefits of a traditional bridge include
Faster restoration
Affordable procedure
Seamless aesthetics
Restored dental function
We Offer Affordable Financing
Cost should never be an inhibitor to receiving the dental care you need, which is why our office provides affordable dental care and various financing options with low monthly payments. We also accept most insurances and will work to find the best solution to meet your budget and health needs. At your free consultation, we will discuss the options available and answer any questions you may have.
Replace Your Missing Teeth
Whether you are interested in a traditional or implant-supported bridge, we can restore your smile. To book your initial consultation, please contact our office online today. You can also call one of our three convenient locations in the Philadelphia area.